Visual artist – watercolour and mixed media
Instructor – watercolour and mixed media
President of the Nordic Watercolour Society www.nordicwatercolour.org
Lives and works near Copenhagen in Denmark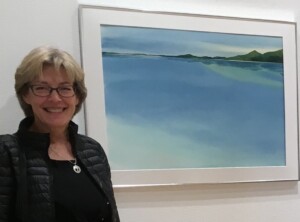 Minimalistic expressions and experimental techniques are not contradictions. Combine the purity of classical watercolour with the boldness of casting all rules aside. Find the crossroads between figurative landscape and abstract painting and you will have an idea of what my art is about – and yet not.
Nature is a great inspiration to me, but my aim is to convey moods, thoughts, atmosphere, not necessarily a topographic view of a specific location. However, I like to surprise myself and others coming up with new themes and ideas, and I have no clear view of where my artistic journey is leading me – but it is a fascinating ride. I find it frustrating, breathtaking and challenging and I love it with passion. For the first ten years of my watercolour life I worked in a more traditional manner and strived to obtain control over this elusive media – now I am in the process of letting go.
Like a conductor or a director I have an idea of how I want the result to be like, I make the components work the way I want – but give them the freedom to come up with new brilliant ideas of their own. By using this method I must leave room for spontaneity and sometimes have to leave things to do the job without my interference. This does call for a lot of patience at times and even courage. I don't know why we take it so seriously, it is – after all – just a piece of paper and some paint. But then, it wouldn't be art if we took it too lightly, would it? Take a look at the gallery section and judge for yourself.
In 2011 I was first elected to the board of the Nordic Watercolour Society which is an association for about 1.800 watercolour painters and enthusiasts in the Nordic countries. I have been working in the administration of the society ever since and I currently hold the title of President of the board.
Please feel free to contact me
E-mail: mg@mariannegross.dk
Click here for my Facebook profile page
Click here for my Facebook artist page
Click here for my Instagram page
Click here for my blog with photos from exhibitions and other events
Click here to subscribe to my mailing list